Searchers who are curious about finding information on another individual can search the databases and documents in this guide which contain free Washington public records.
By knowing how to utilize local, state, and federal government resources to discover information, searchers can find the fastest and most effective way to uncover free Washington background check information and much more.
Is Washington an Open Record State?
Washington abides by the Washington Public Records Act, a series of laws that allows the public to access records and data kept by the governmental bodies within the state. "Records" pertains to any information relating to governmental conduct or government functions retained at a local or state agency in Washington.1
Any individual can request a record within the state of Washington without stating a purpose and must receive the records within five days of the request. The only information not considered public knowledge is personal student information, patient information, employee files, and certain investigations within the state.
Washington states that a 'public record' or state record in any state or local level relates to the function of the government or the performance of an institution and is created, used, or held by the local or state agency.1 The local agencies that hold public records include counties, cities, districts, or other entities within Washington. The public record can be held in the form of an email, document, recording, photo, or electronic disk.
Criminal Records in Washington
Criminal records hold a summary of an individual history with law enforcement agencies, including the subsequent information:
Federal identification number
Fingerprints and mugshot
Social security number
Identifying characteristics
Names and known aliases
Date of birth, gender, race
Personal description
Not guilty verdicts
Dismissals
Violations
Outstanding warrants
Sentence
Arrest Records, and
Conviction data3
According to the Washington Freedom of Information Act, criminal records maintained by the state government at local and state levels are searchable and usable by the public. Except for specific documents or stipulations, like expunged records or sealed cases, the public has the right to view most government records.
Criminal records can be viewed and accessed through third-party sites. However, individuals can typically find the necessary information through government sources, such as local, state, and federal resources. By using a mixture of online and in-person methods, such as county clerk offices and the police department website, individuals can usually find someone's criminal history or bits of it. However, if this is not possible or the searcher would like an expedited process, using a paid third-party search site is a possibility.
Does Everyone Have Access to Criminal Records in Washington?
Every citizen in Washington has access to Washington public records, including criminal records.
The Washington Freedom of Information Act includes all public records held, created, and used by the government, including criminal records. Many law enforcement agencies post public criminal records, along with county clerks and the Washington State Justice Department.
The fastest way for an individual to access criminal records in Washington is to perform a criminal record search by using the list of trial courts or county clerks. Along with utilizing the Washington Justice Department contact information, searchers can also use the Washington State Department of Police or the county sheriff.
Best Ways to Locate & Obtain Washington Criminal Records
There are both offline and online ways to obtain Washington criminal records within the state.
Offline
There are two methods of offline acquisition of criminal records — offline through mail or in person.
Visit the Washington State Patrol website
Click on 'Criminal History Records'
Download the Request for Conviction Criminal History Form
Pay the application fee via money order, cashier's check or the Bankcard Authorization Form for $32.00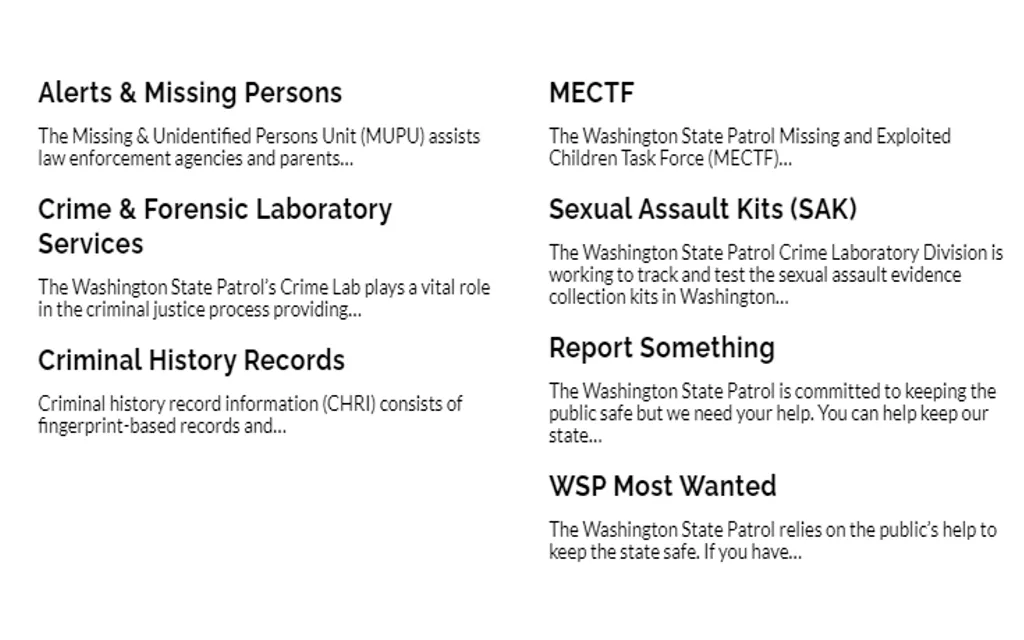 OR, users can complete steps 1-2 and then do the following:
Get fingerprints taken at one of the local law enforcement offices
(Searchers will need consent to obtain fingerprints for another person for a fingerprint-based background check)
Pay the application fee via money order, cashier's check or the Bankcard Authorization Form for $58.00
Searchers can then move on to step 5:
Mail the request and fee payment to the following address :
Washington State Patrol, Identification and Background Check Section
PO Box 42633
Olympia, WA 98504-2633
The other offline method of requesting criminal records is doing so in person.
Complete the Conviction Criminal History Form in person at the Olympia office:
Olympia Washington State Patrol Office
106 11th Ave SW Suite #1300
Olympia, WA 98501 
Pay the application fee of $32.00 through cash, check, credit card, or debit card
OR, searchers can do the following in-person method:
Get fingerprints collected at one of the local law enforcement offices

(Searchers will need consent to obtain fingerprints for another person for a fingerprint-based background check)

Pay the application fee of $58.00 through cash, check, credit card, or debit card
Online
One of the fastest ways to locate and obtain Washington criminal records is to visit the Washington State Patrol website.
Visit the Washington State Patrol website
Click on 'Criminal History Records'
Click on 'Online'
Visit the 'WATCH' website
Create a new account
Choose the type of search
Name and date of birth search
Fingerprint-based search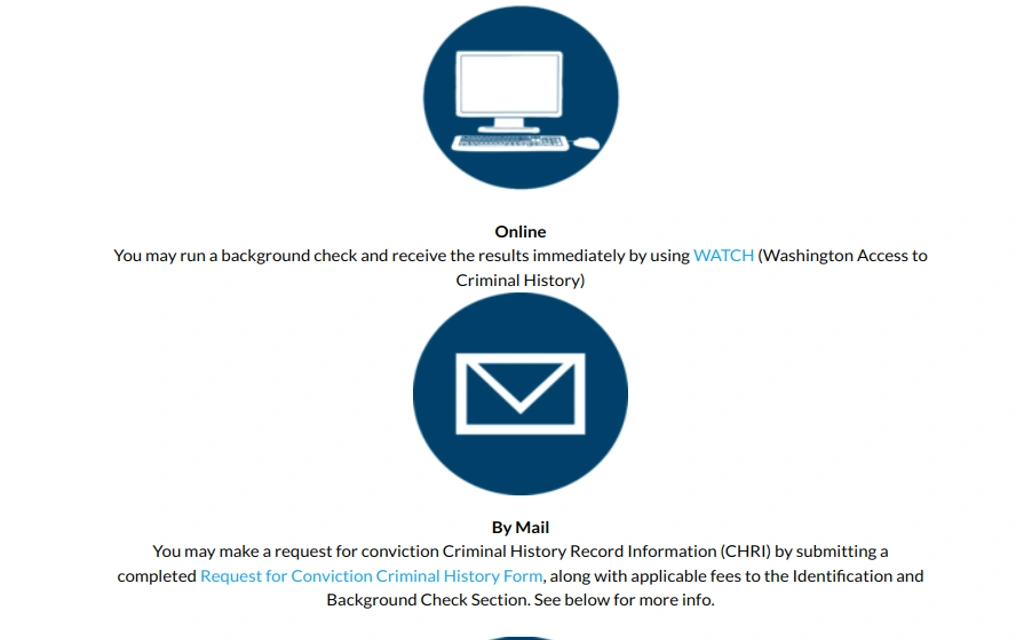 Can People View Juvenile Records in Washington?
Washington does not allow the public to view juvenile criminal records since they are not considered Washington public records. 
Juvenile records in Washington are considered the criminal actions of a person who was younger than the legal adult age when the crime was committed. The information held in a juvenile record includes the arrest details, probation information, adjudication, and indictments.
The Washington State Administrative Office contains all information, such as probate, court records, juvenile, criminal, and civil cases.4 The only individual who can see or copy a child's court records is the juvenile justice agency, court personnel, or the victim of the crime.
Furthermore, certain juvenile records can be sealed. Since juvenile records in Washington do not go away after the minor turns 18 years old, the cases will have to be sealed or expunged for them to be inaccessible to disappear completely.
Class A Felony — Juveniles must wait five years after the conviction to seal their records
Class B and C Felonies — Juveniles must wait 2+ years after the conviction to seal their records
Sex offense— Juveniles convicted of a sexual offense must register in the sex offender registry
Lastly, juvenile records can be expunged after 90 days once the person meets these conditions:
Juvenile is 18+ years old
2+ years have passed since the incident
No criminal proceeding is currently pending
How to Find Out if Someone Has a Warrant: Washington Free Warrant Search
An arrest warrant in Washington is a court order by a judge that gives law enforcement permission to search a person, seize possessions, or detain a person who is considered involved with a crime. The arrest warrant includes the following information:
Physical description of the person
Name and aliases of the person
Details of the alleged crime
Expiration date
Name of the warrant issuer
Where and when the arrest can occur
Washington does NOT contain a state warrant database.
Therefore, individuals who want to find out if another person has a warrant in the state must use national databases, such as the U.S. Marshall's system or the DEA Fugitive Search Tool.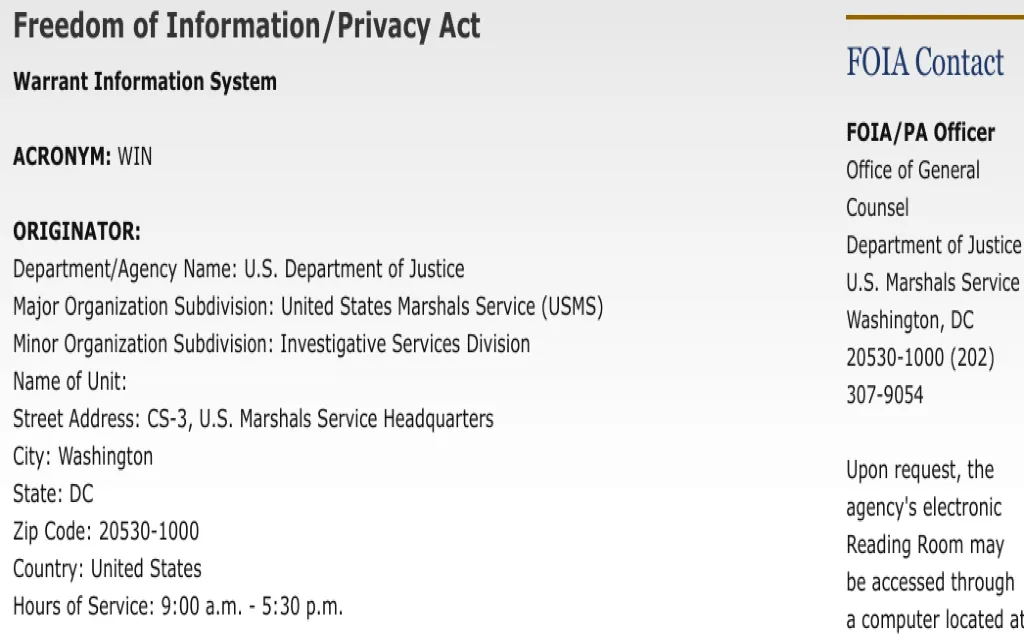 Avoid Sexual Predators by Checking the Washing Sex Offender Registry
Washington contains various sex offender registries to provide the public with information regarding sex offenders in their local area. Local law enforcement agencies will contain a database of sex offenders located within their jurisdiction.
Furthermore, the Washington Association of Sheriffs and Police Chiefs contains a central database for sex offenders in the state.
Click on 'Public Resources
Click on 'Sex Offender Information
Click on 'Washington Sex Offender Public Registry
Click on 'I Agree to continue
Click on 'Click Here to Search for Offenders in Your Area'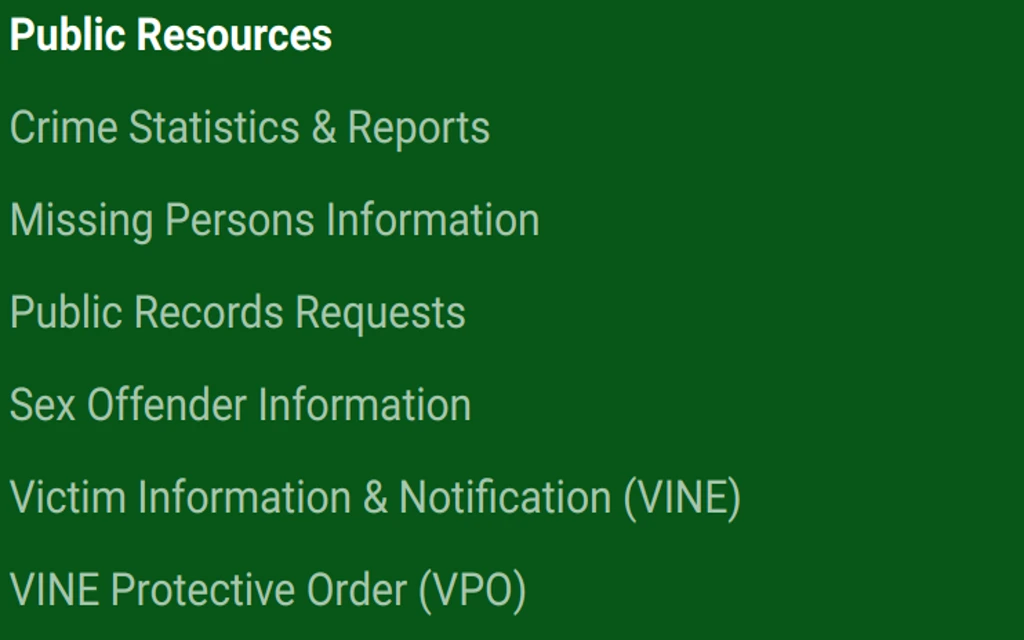 Sex offenders in Washington are categorized into three levels:
Level 1 — Least likely to re-offend and are NOT included on the Washington Sex Offender Registry
Level 2 — Moderate risk and included on the registry
Level 3 — Highest risk and included on the registry
Megan's Law states that in Washington, sexual offenders must register at a local agency within 24 hours of their release or within three days of moving to a new county.5
Searchers can also use the national sex offender registry to find offenders in their local area or state.
Background Checks – Washington
There are different background checks used in Washington to uncover information about someone's history, whether as an individual searcher or as an employer. The two most used background types are a name-based background check and fingerprint-based background check.
Criminal Background Check (State, Name-Based)
The first background check commonly utilized in Washington is the name-based, statewide background check. In Washington, criminal records are public through the Freedom of Information Act since they are contained and used by the law enforcement agencies within Washington state. The information provided in the criminal check includes:
Full name of the subject
Date of birth
Gender and race
Fingerprints and mugshot
Previous and current indictments
Arrest records
Outstanding warrants
Conviction data
Searchers can find this information by using one of the local court clerks or the Washington State Police Department.
The Washington State Police Department can help users obtain a background check through the online WATCH system, through the mail, or through in-person methods at the following office:
106 11th Ave SW Suite 1300, Olympia WA 98501
A criminal background check typically takes between 1-3 business days on average.6
FBI Background Check (Federal Level, Fingerprint-Based)
The second type of background check in Washington is a background check that houses all federal information. This type of check requires consent and fingerprints from the individual to find information within the central FBI database.
Individuals must obtain fingerprints from the subject (must give consent)

The subject must obtain fingerprints from a USPS location to submit electronically.

The searcher can fill out the online background check information through the FBI website.
OR, the other alternative is to use a mail-in method:
Filling out the information form
Obtain a set of fingerprints on the standard fingerprinting card
Submit payment online by using a money order or cashier's check
Send the items to the following address:
FBI CJIS Division – Summary Request
1000 Custer Hollow Road
Clarksburg, WV 26306
An employment background check usually takes between 2-5 business days.7
Washington (WA) Court Records Explained
Washington's court system includes four levels:
Supreme Court — appeals from the Court of Appeals and administers the state court
Court of Appeals — appeals from the lower courts
Superior Court — civil matters, domestic relations, felony cases, juvenile matters, appeals from limited jurisdiction courts
Courts of Limited Jurisdiction — misdemeanor cases, traffic infractions, non-traffic infractions, domestic violence protection orders, civil actions of less than $100K, small claims up to $10K
How to View Someone's Court Records & Criminal History in Washington
Criminal records are composed of an FBI rap sheet, state criminal record, and criminal history report.8 Individuals within Washington can find court records and the criminal history of an individual by using Washington State Patrol for criminal history record information or by contacting the court in which the case was filed to view a court record or order copies.
Individuals can contact the specific court by looking at the court directory and calling or visiting the respective location. The individual must consult the local or appeals court record to find the outcome of the case and verify the information by consulting the court record.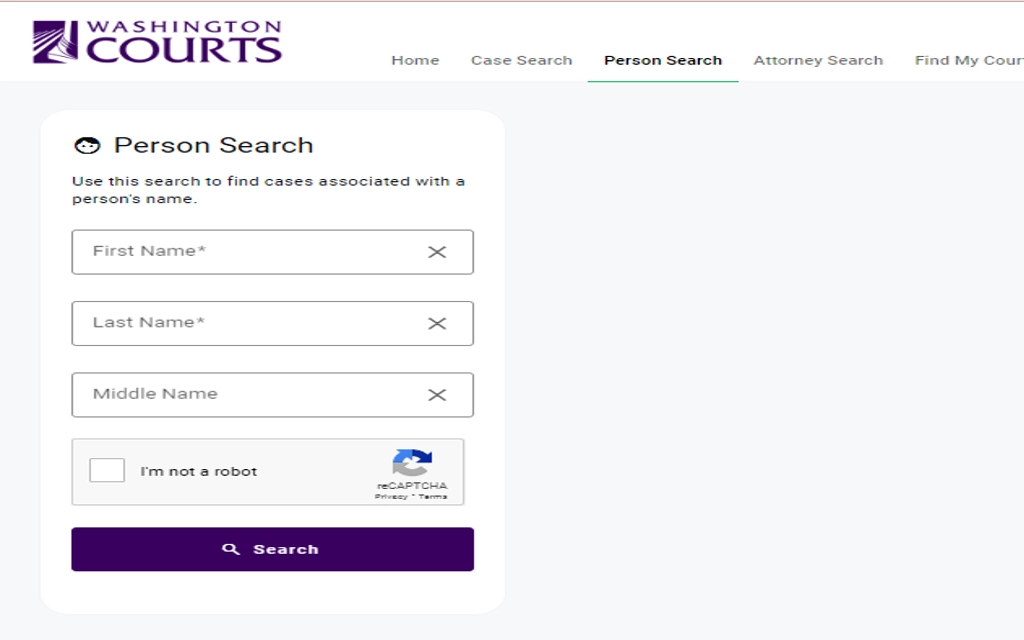 Searchers who wish to find records with a specific person involved can use the 'Person Search' on the Washington Courts website to find any court records associated with that individual.
Furthermore, the Administrative Office of the Courts contains a statewide management system – the Judicial Information System (JIS). Many courthouses within the state contain a public access terminal that lets individuals find filed cases and documents involved in each case. Searchers can contact their local court to find access to a public terminal and access the JIS.
Search Washington Bankruptcy Records
Washington bankruptcy records feature information regarding a person who cannot pay their debts, containing the following:
Subject's name
Current federal income tax return
Savings statements
Checking statements
Investment account statements
Payment advice
Offline Methods:
According to Washington law, bankruptcy records are Washington public records that can be accessed through the local courts or public agencies. Searchers can contact the federal bankruptcy courts to obtain physical copies, online copies, or copies through the mail. Searchers can find electronic data by visiting one of the following courthouses and using their public terminals:
Eastern District Bankruptcy Court-
Spokane Office
904 West Riverside Avenue, Suite 304
Spokane, WA 99201
Yakima Office
402 East Yakima Avenue, Suite 200,
Yakima, WA 98901
Western District Bankruptcy Court–
Seattle Courthouse
700 Stewart Street
Seattle, WA 98101
Tacoma Courthouse
1717 Pacific Avenue
Tacoma, WA 98402-3233
Vancouver
500 West 12th
Vancouver, WA 98660
Port Orchard
614 Division Street
Port Orchard, WA 98366
Everett Station
3201 Smith Avenue
Everett, WA 98201
The other offline method of filing bankruptcy cases is to visit the local court clerk's office, providing basic information such as the debtor's name, case number, details of the document, and requester's name.
Lastly, individuals can contact the National Archive and Records Administration office in Seattle to request archived bankruptcy records.
Online Methods:
Lastly, individuals can also use online methods to find electronic access to bankruptcy cases. Searchers can use the PACER system or the Voice Case Information System to find court information and bankruptcy records.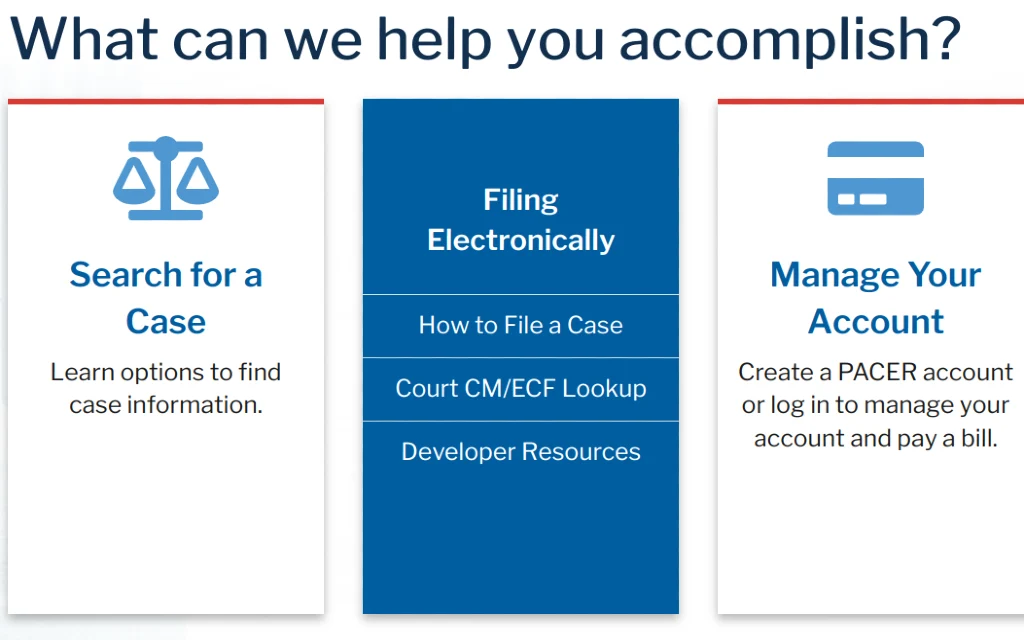 Inmate Records (WA)
Washington inmate records contain documents regarding a person incarcerated within the state of Washington. Criminal records contain important information about the crime committed, the status of the individual, location of where they are being held, release date, parole stipulations, etc.
Inmate records are public knowledge in the state of Washington. Therefore, third-party websites and reputable government sources can be used to access inmate records. To find inmate records, searchers should know the basic information of the subject in question, such as the location and the name of the subject.
The steps that searchers should take before they begin to use governmental sources include:
Find where the inmate is being held
Determine if the person is in local jail or prison
Determine if the location contains online inmate records
If there are no online records, contact the record custodian
If there is no custodian information, contact the county clerk, county sheriff, city jail, Washington Police Department, or the Bureau of Prisons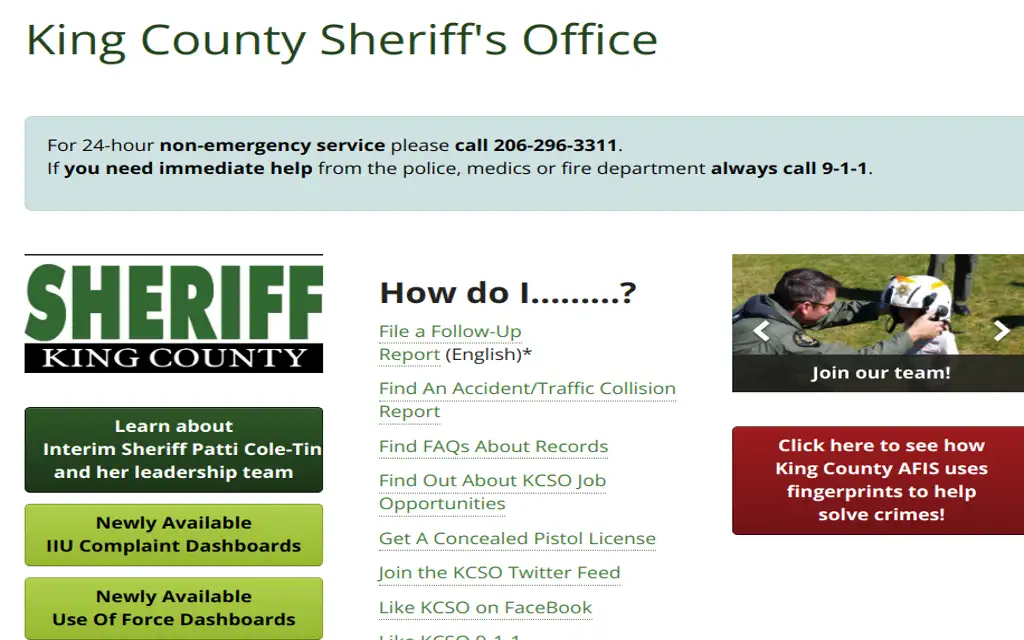 Further information for jail inmates and prison inmates can be seen below. 
How to Look Up Jail Records & Recent Arrests in Washington
Jail records contain information regarding an inmate's incarceration in jail and their release date. Washington jail records contain information surrounding state prisons, county jails, and city jails.
Local jails are controlled by the local sheriff's office and police departments in various countries. Searchers can find recent arrests or inmate jail records through their online arrest logs, by visiting their local law enforcement agency or using their contact information to call them.8
To streamline this process, our resource on free Washington State background checks, criminal and arrest records provides county inmate rosters for every county in WA, county jail contact information, and several other criminal record custodians.
As an example, searchers can visit the King County Sheriff's Office website to make a records request, find out more FAQs about requesting information or use the jail inmate lookup tool. More local public records pertaining to this county can be found via our King County public information search resource which describes how to best look up all types of records on anyone free of charge–including inmates, warrants, probation, court, criminal, marital records, and more.
In addition, the Washington Department of Corrections controls the state prisons, so arrests that result in imprisonment can be found by utilizing their Inmate Search tool. Prior or non-recent arrests can also be found through the Washington Courts Online Person Search feature.
What is the Best Way to Find Mugshots in Washington?
The best way to find mugshots in Washington is to use city jail or police department search tools to find recent arrests and mugshots. The other solution is to use county jail or county sheriff lookup tools to perform an inmate query or mugshots.
For example, the DAJD Portal offers subjects booked within the last 24 hours, including information like the Booking Number, Booking Date, Facility, Name, and UCN. in addition, the Department of Corrections for Washington State offers an Inmate Search tool that offers the DOC number name, age, location, and WA Vine Notification status.
Also, specific counties offer search tools. The Pierce County Sheriff's website offers information regarding recent jail rosters. Users can click on 'Pierce County Jail' and then click on 'Inmate Listing' to find those in the custody of the Pierce County Jail, Yakima facility, hospital, or released in the last 48 hours.
Search for Prisoners & Associated Records: Washington
Individuals can find prisoners by using federal and state resources.
Federal inmates can be found using the Bureau of Prisons website inmate locator tool.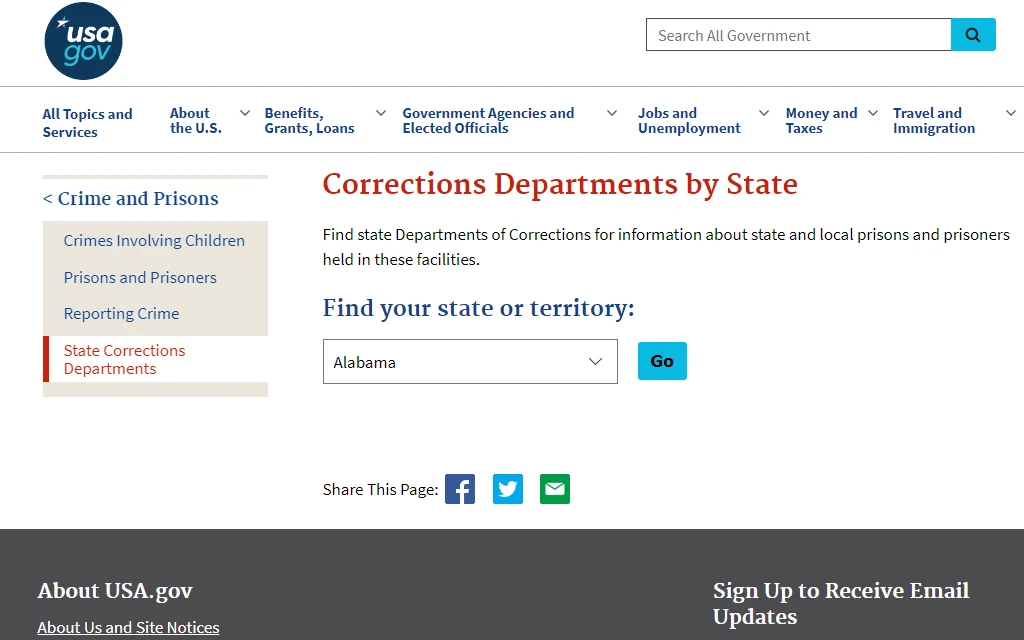 State inmates can be found through the Washington Department of Corrections website and using the Inmate Locator tool.
The last way to find prison inmates is to use the USA Gov site to search the Corrections Department by State and click on 'Washington.'
Vital Records – Washington
Washington vital records contain birth, death, divorce, and marriage information. Vital records are important life events kept under governmental authority, including marriage and divorce licenses and birth/death certificates.9
The data rates of these records, including the divorce rate per county, are also provided by the U.S. Census Bureau.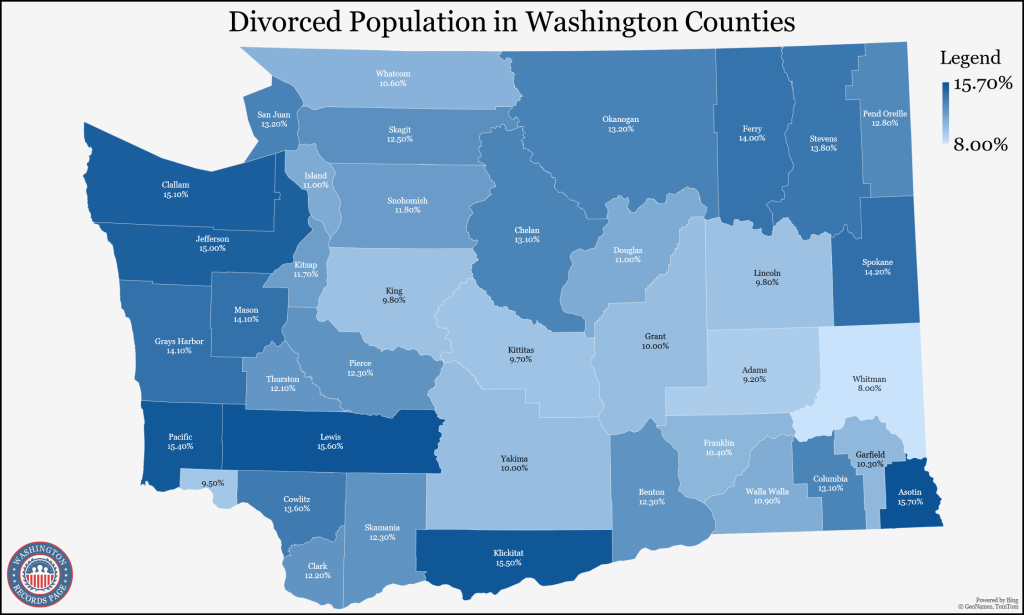 The Department of Health in Washington is authorized to issue certified copies of vital records for births, deaths, marriages, and divorces.
Do Citizens Have Access to Vital Records in Washington? (Free Marriage Records Lookup)
Searchers can access Vital Records by applying for records through the Department of Health. These are certified copies of events that took place in the state of Washington. Searchers can use the VitalChek system to find a birth certificate, death certificate, marriage record, or divorce record.
If the record in question is too old to be stored in the VitalChek online system, searchers can use the Washington State Archives to find information.
How to Look Up & See if Someone is Married or Divorced (Free Washington Divorce Records and Marriage Records)
The Department of Health in Washington state has marriage and divorce records from 1968 until the present. Searchers can obtain certified copies by submitting an application and paying the $25 fee.
The quickest way to obtain marriage or divorce records is to use the VitalChek system.
How to Order Birth & Death Certificates in Washington
Individuals can use the Department of Health to order birth and death certificates in the state of Washington.
Only the following individuals can order certified copies of birth certificates in Washington:
Family member
Self
Spouse or domestic partner
Legal guardian
Legal representative
Government agency
Court
Those who wish to obtain a legal copy of a birth certificate must do the following:
Submit an application
Provide valid government ID
Provide documentation to prove the relationship to the subject
Pay a $25 fee
Individuals who wish to obtain a certified copy of a death certificate must provide proof of identity that they are 'qualified applicants' to obtain the death certificate. Individuals must provide the first and last name of the deceased, the date of death, and the city/county of death during the application.
Searchers can use VitalChek or submit the application through the local Washington health department.
1Public records. (n.d.). Wikipedia. Retrieved June 11, 2022, from <https://en.wikipedia.org/wiki/Public_records>
2Information about Criminal Records. (n.d.). Legal Aid at Work. Retrieved June 11, 2022, from <https://legalaidatwork.org/factsheet/records/>
3WASHINGTON. (n.d.). Juvenile Records. Retrieved June 11, 2022, from <http://juvenilerecords.jlc.org/juvenilerecords/documents/publications/factsheet-WA.pdf>
4Megan's Law. (n.d.). Wikipedia. Retrieved June 11, 2022, from <https://en.wikipedia.org/wiki/Megan%27s_Law>
5Korolevich, S. (2021, February 10). How Long Does A Background Check Take? GoodHire. Retrieved June 11, 2022, from <https://www.goodhire.com/blog/how-long-do-background-checks-take/>
6How Long Do Pre-Employment Background Checks Take? (2022, May 25). Indeed. Retrieved June 11, 2022, from <https://www.indeed.com/career-advice/career-development/how-long-do-a-background-check-take-for-a-job>
7List of law enforcement agencies in Washington. (n.d.). Wikipedia. Retrieved June 11, 2022, from <https://en.wikipedia.org/wiki/List_of_law_enforcement_agencies_in_Washington>
8Vital record. (n.d.). Wikipedia. Retrieved June 11, 2022, from <https://en.wikipedia.org/wiki/Vital_record>
9Washington State Patrol (WSP). Accessed 6 May 2023. <https://www.wsp.wa.gov/>
10Washington State Patrol (WSP). Accessed 6 May 2023. <https://www.wsp.wa.gov/crime/criminal-history/>
11U.S. Marshals Service. Accessed 6 May 2023. <https://www.usmarshals.gov/readingroom/warran.html>
12Washington Association of Sheriffs and Police Chiefs. Accessed 6 May 2023. <https://www.communitynotification.com/cap_main.php?office=54528>
13Washington Association of Sheriffs and Police Chiefs. Accessed 6 May 2023. <https://www.waspc.org/sex-offender-information>
14Washington Courts. Accessed 6 May 2023. <https://dw.courts.wa.gov/index.cfm?fa=home.namesearch&terms=accept&flashform=0>
15Public Access to Court Electronic Records | PACER: Federal Court Records. Accessed 6 May 2023. <https://pacer.uscourts.gov/>
16King County Sheriff's Office, 1 January 2022. Accessed 6 May 2023. <https://kingcounty.gov/depts/sheriff.aspx>
17USA.gov. Accessed 6 May 2023. <https://www.usa.gov/corrections>